My day started off very early on a Tuesday morning, I was up at 04:00 hrs as I had a 05:45 hrs start from my depot in West London. I left home at around 04:50hrs and made the 18-mile journey into work.
After booking in I was given a duty folder and the keys to a truck and I proceeded to do my vehicle checks, coupling up and loading before I set off on my 400-mile journey to Normanton Yorkshire, and back.
Within ten minutes of leaving the depot at approximately 06:50 hrs, I was stuck in a very serious traffic jam that started on the A406 north circular road at Staples Corner, just after the exit slip for the A5.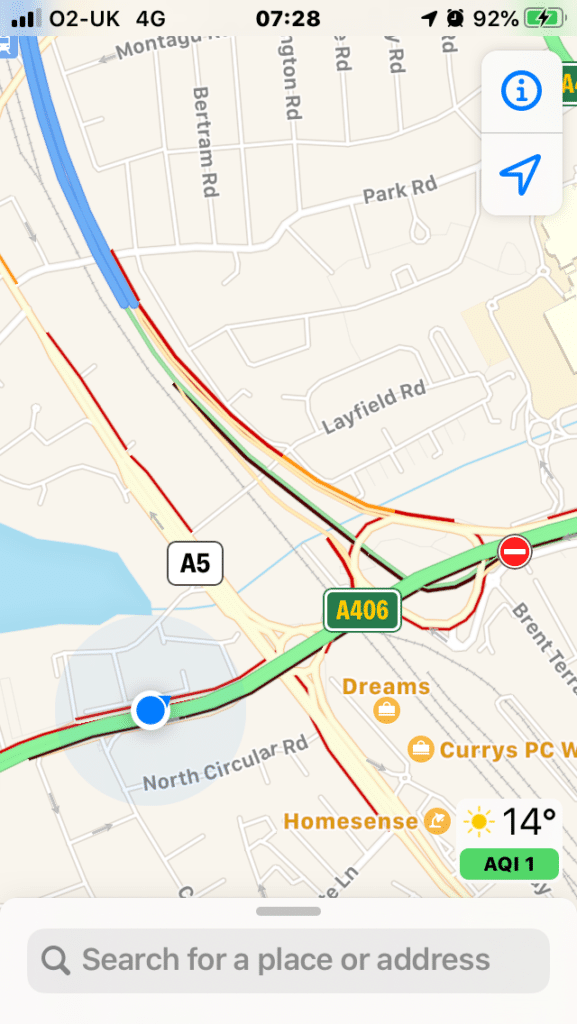 After not moving at for around fifteen minutes, it became apparent to me that I was going to be here for a very long time. Then on the radio came the traffic news from the BBC that I listened to intently, but there was nothing said about the jam that I was stuck in.
Traffic Office.
I telephoned the central traffic office and I was told that there was a burst water main on the A406 and that the A406 was closed at Brent Cross. This had happened on Monday afternoon and my traffic office should have told me about it when I booked in that morning.
Nobody had told me anything, but if they had this whole situation could have been avoided. The traffic office was unable to help me and said that all I could do was to sit it out and then let them know when I had cleared it and was on my way again.
Looking on the bright side it was quite a nice day, a bit cool but the sun was shining, I had a packed lunch, a bottle of water, there was a radio that I could listen to, and I had quite a nice view of North London from the top of the flyover.
Travel News.
The travel news came on the radio again, and once again there was no mention of the traffic jam that I was stuck in. I decided to change the channel to see if I could find out more about what was going on. At last, a mention of the A406 that was closed at Brent Cross, because of a burst water main.
The traffic was creeping forwards like this… moving forwards a bit, then stop for 29 minutes, move forwards a bit more, then stop for 16 minutes, move some more then, stop for 1 hour and 7 minutes. I know these timings as I obtained them from my tachograph data.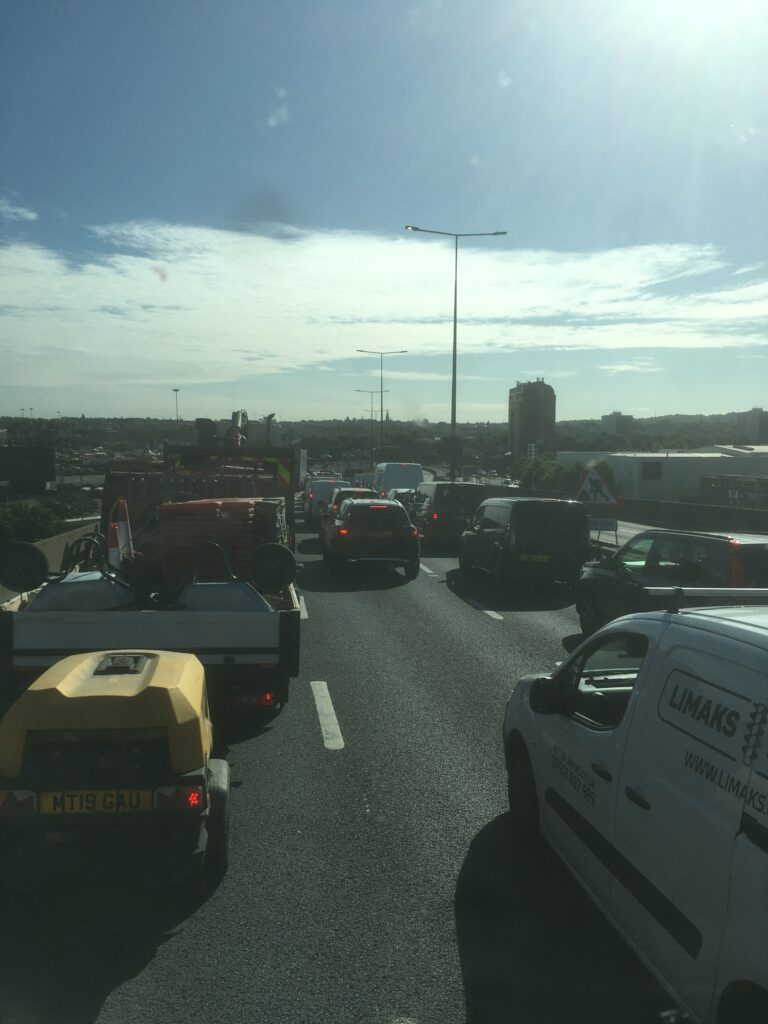 Traffic from the southbound M1 and the A5 was also trying to join the A406 and adding to the chaos. By now, I could see the southbound carriageway of the A406, it looked like a dried-up muddy river bed.
There were about 5 Thames Water people that were just standing about and looked like they were scratching their heads looking at the mess that was before them.
Crawling Along.
After about two and a half hours of crawling along like this, I had passed over the flyover and I could see that the road was being narrowed down to just two lanes towards the slip road that leads to the junction of the A406 and the A41 at Brent Cross.
At last I had reached the top of the slip road and made a left turn on to the northbound A41, I was free and was moving again. I now had to find a safe place to stop in order to call the traffic office.
By now it was nearly 10 am, I had used 4 hours of my duty time but only used 40 minutes driving time, I told this to the traffic office and it was suggested to me that I should carry on with my run to Normanton.
Break Times.
I carried on along the A41 and joined the M1 at Junction 4 and proceeded north towards my destination. As I had started my shift at 05:45 hrs, I thought about my break times. I needed to stop before 11:45 hrs to comply with the working time directive (WTD). Leicester Forrest services came to my mind, as this is roughly a midway point on my route, so I made my up mind to aim for there.
At 11:22 hrs I was parked up in Leicester Forrest services and decided to have 45 minutes rest, I was feeling a bit stressed by now, wondering if I was going to complete my journey and make it back to base within the legal time limits.
I phoned the transport office again with a progress report, and asked them if they could arrange for my return load to be loaded on another trailer, so all I had to do when I arrived, was to swap trailers, this would save me a lot of time.
Making Progress.
I made good time up to Normanton via the M1, M18, A1 and M62 and arrived at approximately 13:55 hrs. The transport office told me my trailer was loaded and that it was on bay 4, all I had to do was uncouple my trailer, couple up to the return trailer, do the trailer safety checks, and after a visit to the lav, I was on the way back to my depot. This took approximately 25 minutes.
Looking at my remaining driving time, I had around 2 and a half hours remaining before I needed to stop for another 45-minute break, I began to plan on where I could stop and decided it would be Watford Gap services on the M1.
The travel news came on the radio just then, and I turned up the volume so I could listen, it was announced that the M1 northbound between Junctions 28 and 29, had been completely closed due to an accident, 'Oh no' I thought, I wonder if this is affecting the southbound carriageway in that area, there was no mention of that though.
Whilst on the A1, the matrix flashed up a warning that there were delays on the M1 southbound between junctions 28 and 29, I could not afford any more delays so I just stayed on the A1 in order to avoid that area.
Route Planning.
Thinking about my route home, in order to reach my depot and to avoid the Brent Cross area, I needed to get back to the M1. An approach from the west via the A40 was needed, then I thought of cutting across to the M1 via the A46, I could join the A46 at Newark. This route joins the M1 at junction 21a, well south of the incident at junctions 29 to 28.
Apart from a few roundabouts around Newark, the A46 was dual carriageway all the way to Leicester, and it seemed to be fairly quiet, but the northbound side looked busy. I made it to Watford Gap services after driving for 4 hrs and 15 minutes, well within my driving time.
Will I Make It?
By now, it was 16:45 hrs, I had been on duty for eleven hours, and I could not start driving again until 17:30 hrs, I needed to be finished now before 20:45 hrs as this would be the end of a fifteen hour shift, I think that I had enough time to make back to the depot.
Also, I had used 6 hrs and 34 minutes of my daily driving time, so plenty of time was still available to me, as you are allowed to do up to 10 hrs driving twice a week, and 10 hours was available to me.
I carried on my journey via the M1, M25, M40 and A40, I went this route to avoid the North Circular at Brent Cross as it was still closed, I had been hearing it on the travel news all day long. At 19:15 I drove through the depot gates and breathed a sigh of relief, having made it back to my depot within the legal time frame.
At The Depot.
I still had to offload, uncouple the trailer and refill the diesel tank, I was still running out of duty time, and after a chat with the warehouse manager, I was told to park the trailer on the bay. This I did with pleasure, and I then refilled the diesel tank, parked up and went to the transport office to debrief.
At 20:00 hrs I clocked off, a 14 and a quarter-hour day, it could have been avoided if a message was passed on to me about the road being closed.
It really is a drivers worst nightmare when you run into a situation like this, you never know what is going to happen, so you should always be prepared and bring with you something to eat and drink.
Once you are out on the road your day will not finish until you come back to your starting point, or if you are on long-distance work, when you find a suitable place to stop for the night.
If you are thinking of becoming a trucker you will get days like this, so think long and hard before you make your mind up.
Are you a trucker and has anything like this happened to you? If so perhaps you would like to comment in the box below.
(Visited 113 times, 1 visits today)