Back in February 2007, I had an accident that is known in the trade as a 'jack-knife'.
A 'jack-knife' is the folding of a unit and trailer so that it resembles a pocket knife and is caused by adverse road conditions, equipment failure or improper braking.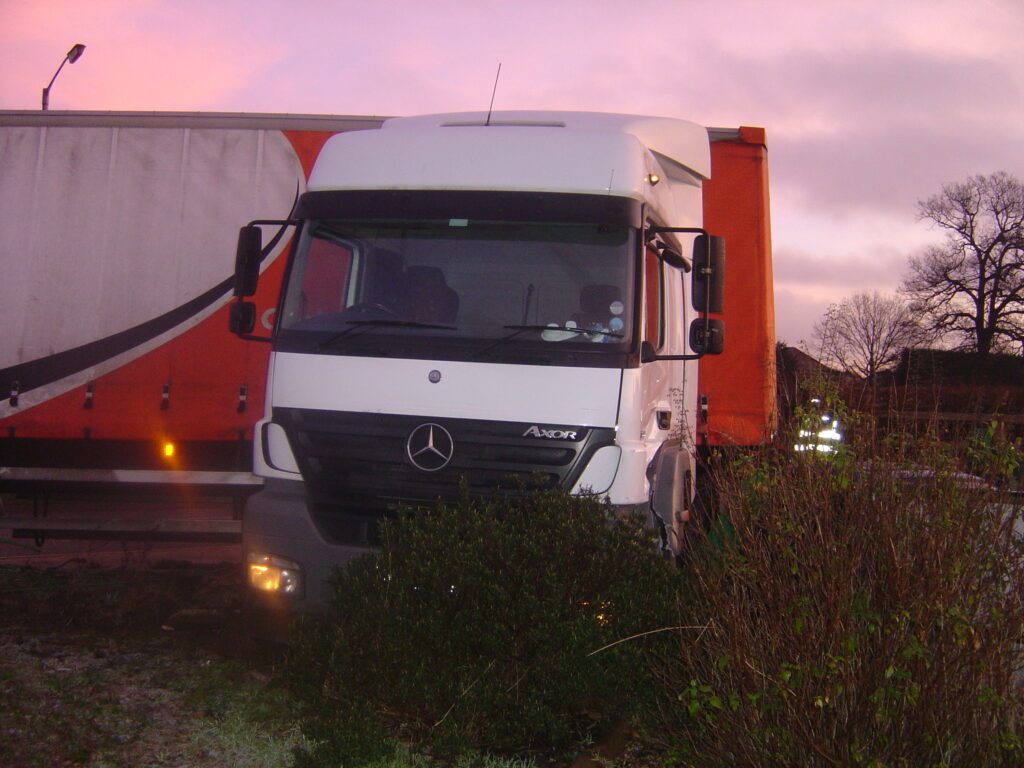 In my case, it was adverse road conditions that caused my vehicle to slip on some ice, crash into a farm gate and another vehicle, on a cold and frosty morning back in February 2007.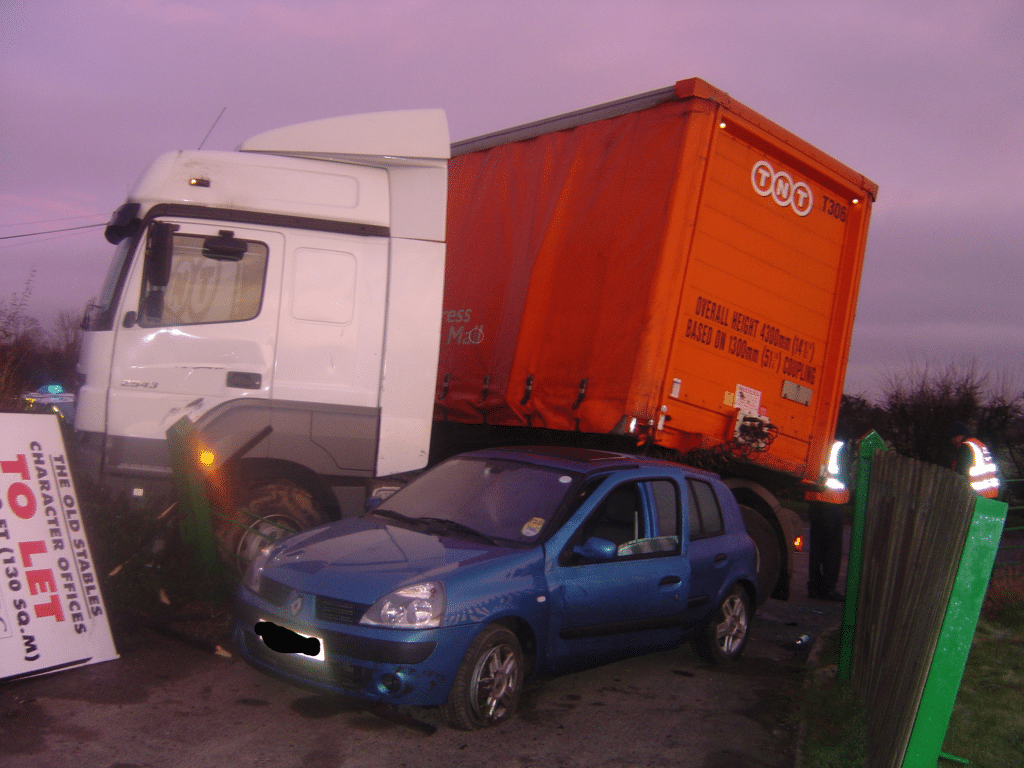 How The Jack-Knife Happened.
I was returning to my depot at Iver, Buckinghamshire and approaching Iver village near to Wingrove's Farm when up ahead I could see some vehicles stopped on my side of the road, I began to slow down in order to move past the obstruction when I noticed some people walking about on the road, I touched the brake ever so lightly, and then found myself skidding towards a car that was in the gateway of the farm.
The lorry was out of my control, I tried to turn the truck to the right, to avoid the car, but the truck kept going in a straight line, as it was being pushed by the trailer, and quite quickly, it hit the car that was in the gateway of the farm.
After the truck had stopped, I surveyed myself, I was unhurt, I opened the door, climbed down and went around to the near side of the truck and met the driver of the car that I had just hit.
I asked him if he was 'ok' and he said 'yes'. He told me that he had skidded on the road and had crashed into the kerb, puncturing his tyre and was just about to start changing his wheel for the spare, but managed to jump out of the way when he saw me coming towards him.
Three Separate Incidents.
There was another vehicle that had earlier also crashed into the field opposite the farm gate. From what I could make out, there had now been three separate accidents on the same stretch of road, a highways truck was also present and had been called to treat the road surface.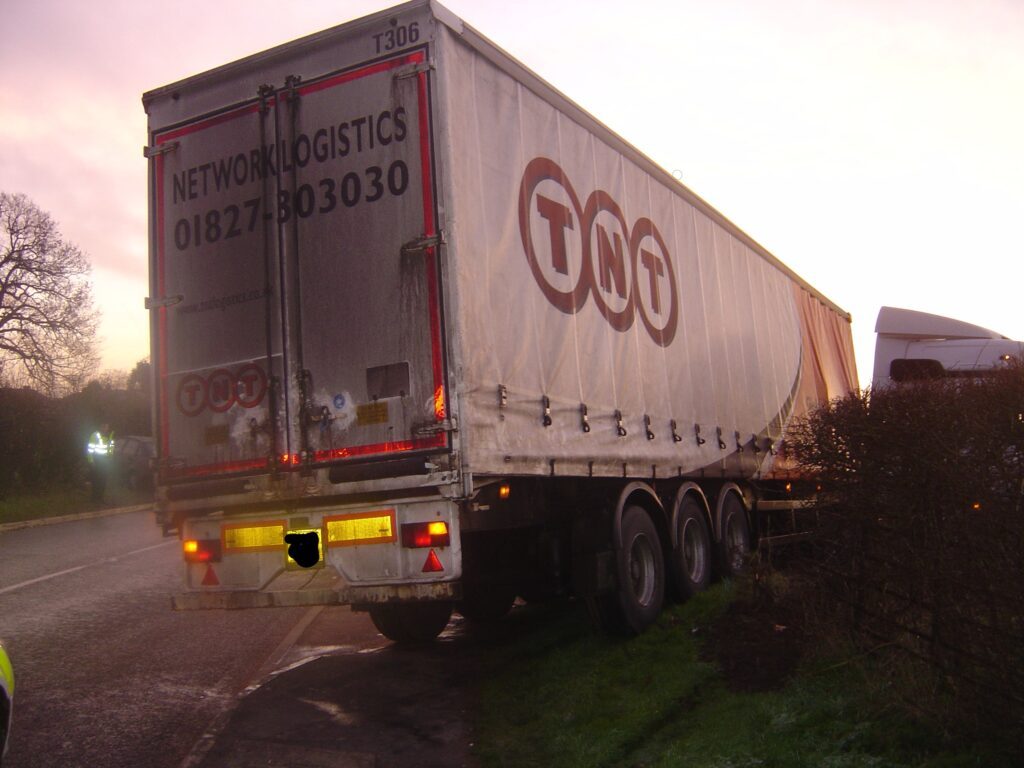 I telephoned my depot, and at first I was not believed, by the person answering the phone, that I had had an accident and was stuck in a farm gateway. It took some convincing but I was then told that help was on the way.
Images.
A bit later, another driver and work collegue of mine was passing by on his way home from work, and stopped to see what had happened. I said to him 'That I wished I had my digital camera on me', as I wanted to take some pictures. I only had a disposable, one use, film type camera that was in the accident pack that my company gave to all drivers in case of an accident.
Just then he produced his own digital camera from his coat pocket, and I was able to take these pictures. In those days camera phones were in their infancy and did not have a quality camera on them like today's mobile phones.
The farmer then appeared from his farmhouse, he had slept through all the commotion and had just woke up. Seeing it all from his window had come outside, and was a bit surprised when I told him that this had happened a couple of hours ago. He offered me a much-needed cup of tea which I accepted 🙂
Recovery Truck.
The recovery truck arrived and the driver was scratching his head and wondering how he was going to recover my vehicle from its resting place, and it was about now that I was driven back to depot and had to go and file a report about the incident.
A couple of hours later, I drove past the scene on my way home, and saw that the recovery truck was still there trying to get my vehicle out of the field. I was given the next night off and being a Thursday morning I was looking forwards to a longer than normal weekend.
Jack-knives do still happen but are not as common as they used to be due to safety features, such as advanced steering, suspension and anti-lock braking systems, that are a standard feature on most modern trucks. I was lucky as my experience of a jack-knife was a low-speed one and nobody was hurt, I have seen and heard of more deadly occurances that have had fatal consequences.
Have you experienced a jack-knife in your driving career, or do you know anyone that it has happened to? If so please make a comment in the box below.
(Visited 226 times, 2 visits today)