Transport companies use a tachograph analytics program for analysing your tachograph data, but most of them will not let you see it until you ask to see it, or you have been unfortunate enough to incur an infringement.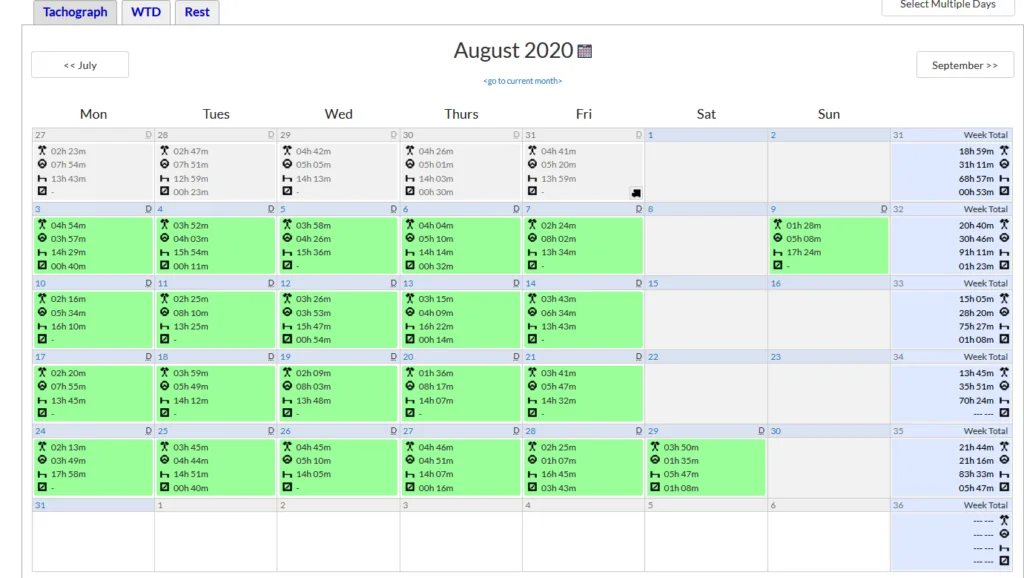 Limited Information.
The digital tachograph unit that is fitted in your vehicle will give you limited information such as a fifteen-minute warning when you are approaching the end of a four and a half hour driving period, and it will also let you know when you are getting near to the end of a ten-hour driving day.
It can also tell you other data from your card, such as how many driving hours you have done in the past fortnight, but what it is unable to tell you is your average working week hours, the six-hour rule, the total driving hours for each day that you have worked and the total time that you have left in the current week.

Removing Your Digi Card.
Once you have removed your Digi card from the vehicle unit, you are then unable to see the data that has been collected on the card until your card has been downloaded into your companies tachograph analytics program, and then you are still unable to see your data unless you request to see it.
Some companies make it difficult for you to see your tachograph data even after you have put in a request to see it.
So how are you supposed to keep a track on your driving hours, working hours, average working time, working time directive etc? Most companies will not let you see this until you have actually incurred an infringement and by that time it is too late.
For an example the average working week limit is 48hrs, but how can you know when you are approaching the limit? You wont know until you have breached it and your transport manager wants to see you about it.

It is far better to know that you are approaching 48hrs average working week and then you can do something about it, such as cut down on your hours at work, so you do not breach the 48hrs rule in the first place.
That is where having your own tachograph analytics program, such as Tachcomaster, comes in handy, you are able to see the same data that your company can, but you can see it in real-time as it is happening, so you if you have incurred an infringement you will know long before your transport manager will want to see you.
Incurring An Infringement.
Some companies will want to see you about an infringement and will ask you to sign a letter confirming that you have acknowledged the infringement, have understood how it occurred and have had further training to prevent it happening again in the future.
If you are not seen about an infringement as soon as possible after it has happened, ie; the next day, (some companies leave it weeks or months to come and see you), you would most likely not be able to recall in your memory how it happened and could have incurred more of the same infringements in that time.
The infringement letter is then placed on your record and if you collect enough of them it may well be curtains for you.
Keeping Your Own Records.
For a one-off initial purchase of a card reader and a small weekly fee of £1.00 plus the VAT, (billed monthly) you can keep an eye on your driving hours using Tachomaster.
This is a very handy program to have if you are an agency driver, and also will come in handy as it will keep a record of all the different vehicles that you have driven, and the times that you were driving them.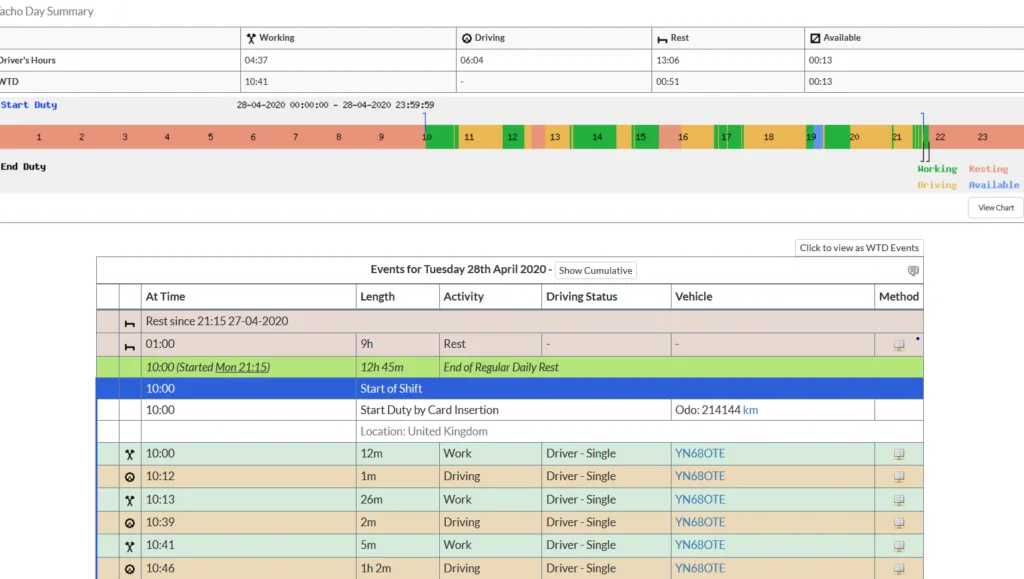 It is proof that should a traffic offence occur, ie; the vehicle was flashed by a speed camera, that you were, or were not, the driver of that vehicle at that time.
In Tachomaster you can also see your weekly and monthly rest report and are able to see if you have had any reduced rest periods. You can also see if you have compensated them properly as shown in the calendar below.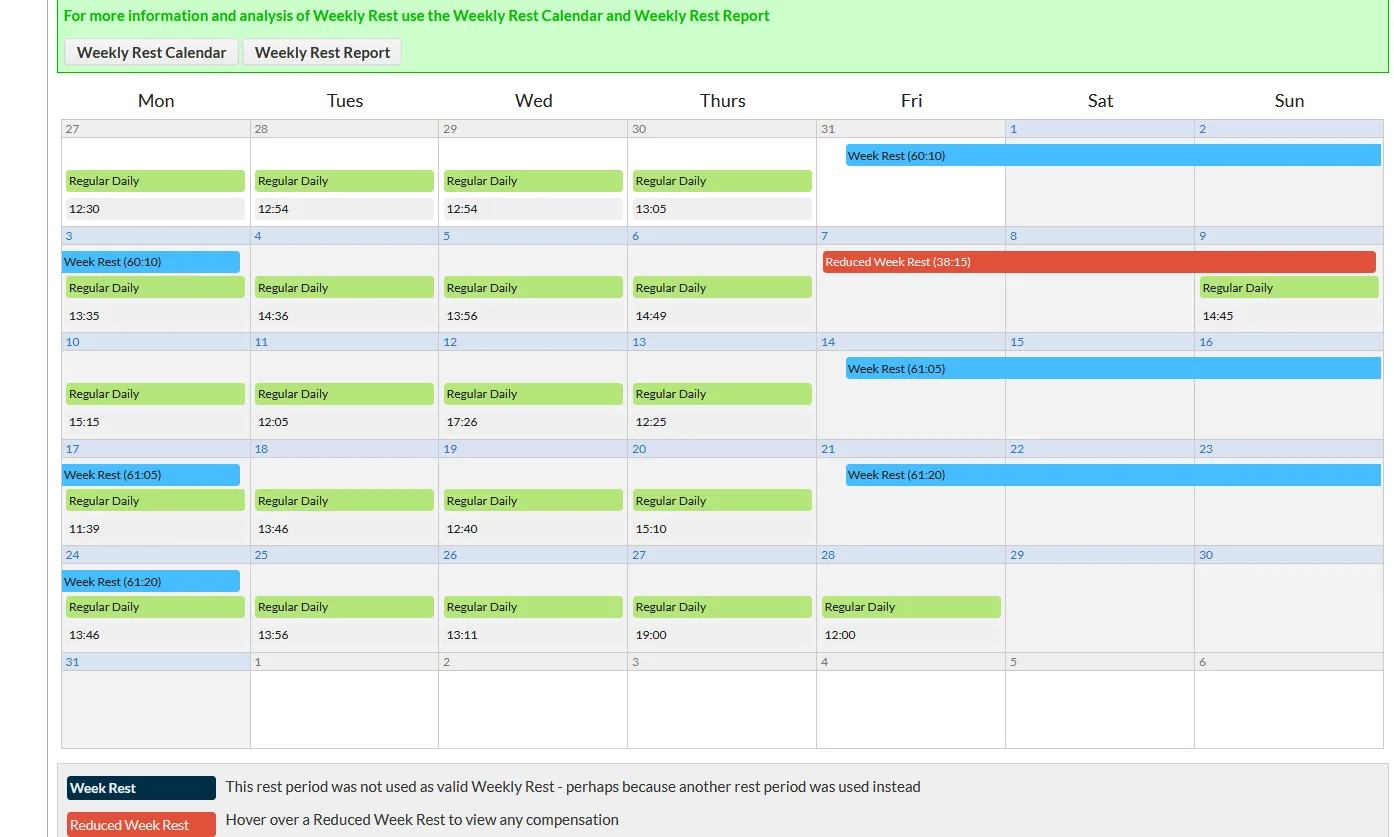 As you can see having a tachograph analytics program is a valuable tool in helping you as a driver keep on the right side of the law and will help you avoid accumulating tachograph infringements.
(Visited 212 times, 1 visits today)