Bus lanes have time restrictions placed on them that are determined by a sign where the bus lane starts.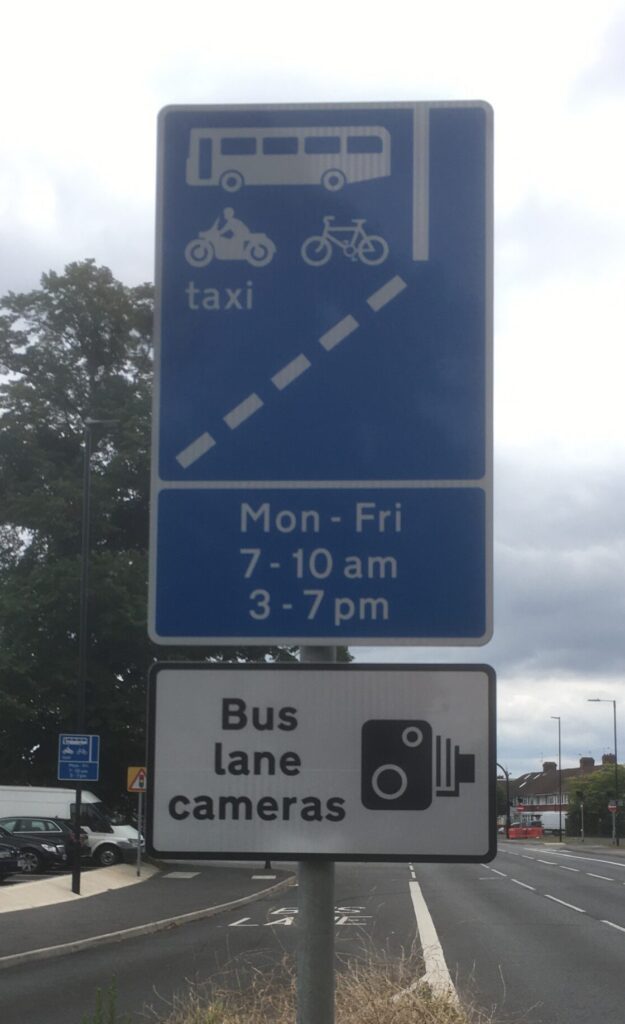 When you see a bus lane coming up, you should look at the blue sign that is placed at the start, it will have a time stated as in the following examples;
7 to 10 am Mon to Fri
4 to 7 pm Mon to Fri
7 to 10 am Mon to Sat
7 am to 7 pm Mon to Sat
Outside of these times, all vehicles are permitted to use the bus lane, but not a lot of drivers know this and just avoid the bus lane altogether, causing more congestion on the road than necessary. If there are no times stated then it will be a bus lane at all times.
Understanding The Bus lane Sign.
If it says the following on the sign, 'Bus Lane 7am to 10am Mon to Fri' then during these times you must not enter the bus lane, but outside of these times it is permitted to be used.
Some drivers try to stop other drivers using the bus lane by encroaching it enough to stop the permitted vehicle from passing, a clear indication that they have either not seen, read or understood the meaning of the bus lane times on the sign.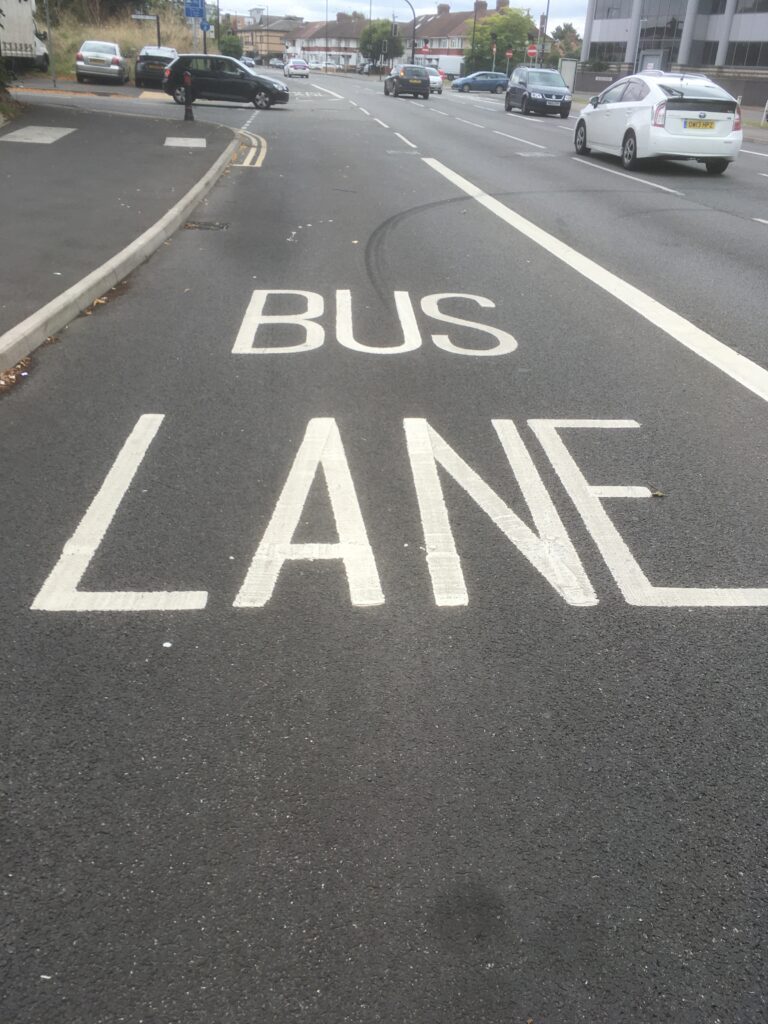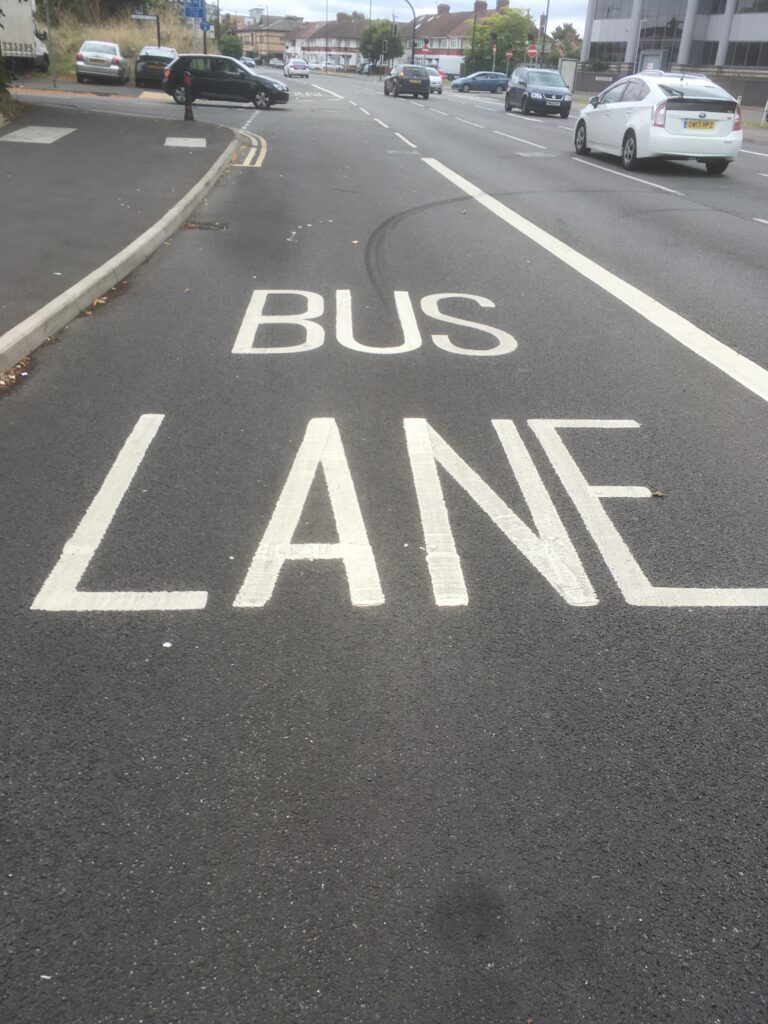 Of course you may see someone using the bus lane during the times when the bus lane is being enforced, and these type of drivers are clearly lawbreakers, they will get caught one day. Most bus lanes have ANPR cameras, and now some buses have cameras fitted in order to catch bus lane offenders.
Using The Bus Lane.
I can remember a few years ago I was heading out of town on the A3 East Hill Road, approaching the Wandsworth one way system, there was a line of about 15 cars stopped leading up to a set of red traffic lights, but to the left of the line of cars, was an empty bus lane.
It clearly said on the sign at the start of the bus lane, 7 to 10 am and 4 to 7 pm Mon to Sat, and as it was a Saturday at around 1 pm, I decided to enter the bus lane and pass the line of cars.
One driver saw me doing this and did not like it, as he thought I was jumping the queue, he took the law into his own hands and tried to stop me by blocking the bus lane slightly, after a bit of an altercation with my horn, he moved out of the way, he couldn't have seen or even read the sign at the start of the bus lane.
I just hope that he went back to read the sign and then was able to understand that, at that time, the bus lane was not a bus lane at all and could be used by all vehicles.
Keeping Your Wits.
You need to keep your wits about you though, as some bus lanes have varying times on them, for example, at the start of a bus lane the sign may say that it is a bus lane at 7 to 10 am Mon to Sat, but further along the same road, this could change to being a bus lane 7 am to 7 pm Mon to Fri.
This might catch some drivers out, and some people reading this may say that the council have designed this in order to make money from fining drivers, but if you stay alert and look at the bus lane signs you should avoid being caught using the bus lane when it is in force.
Some bus lanes even permit goods vehicles over 3.5 tonnes to use them, and one such lane can be found on the A23 Farthing Way near to Coulsdon, Surrey.
When permitted, I use the bus lane all the time, and I have never received a fine in all my years of driving.
Have you ever been caught using a bus lane, or do you not use them at all, cursing at drivers that do use them, because you don't realise that they are permitted to? If so, I would like to hear about what happened to you, so please leave a comment in the box below.
(Visited 245 times, 1 visits today)